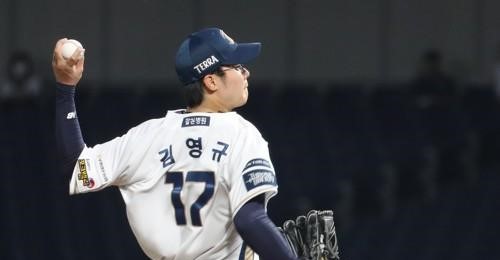 NC's Kim Joo-won (pictured), who won baseball gold at the Hangzhou Asian Games, led his team to victory in his first game back.
NC rallied for an 11-6 victory over Hanwha in a baseball homecoming
game at Changwon NC Park on Sept. 9, led by a three-run homer by Kim,
who competed for the Asian Games. NC, which was in fifth place the day
before, moved into a tie for fourth place with SSG, which did not play that day.
Trailing 0-3 in the second inning, Kim sparked the comeback with a two-
run double to left-center field with runners on first and second. Trailing 4-
6 through four innings, NC took advantage of a gap in the fifth inning
when Hanwha starter Ricardo Sanchez left the mound with side pain. NC's
Park Gun-woo hit a two-run home run to tie the game against Kim Bum-
soo, who came on in a hurry. With two outs and runners on first and third,
Martin came home on a wild pitch to make it 7-6.
NC scored again in the bottom of the eighth inning with the bases loaded
and one out as Kim scored on a sacrifice fly, followed by Choi Jung-won's
RBI triple and Park Gun-woo's RBI double to seal the game. Kim finished
the day 1-for-3 with a home run and three RBIs. Reliever Kim Young-kyu, who competed at the Asian Games with Kim, came on after the first out
of the seventh inning and pitched two and a third innings of one-hit, one-strikeout ball.
In Gwangju, sixth-ranked KIA came from behind to beat Samsung 3-1
and move to within three games of fourth-place NC and SSG. Seventh-
ranked Lotte thrashed LG, which had already clinched the regular season title, 8-1. 스포츠토토맨